Hackberry (Celtis occidentalis) is a large deciduous tree found in the good bottom soils of Central and Northeastern America. It is classified as a hardwood, but does it make good firewood?
Hackberry is medium-quality firewood suitable for both indoor and outdoor use. With a moderate heat output of 21.2 million BTUs per cord, it burns clean, and it doesn't spark as much as softwoods. It is relatively easy to split and has a slightly pleasant fragrance.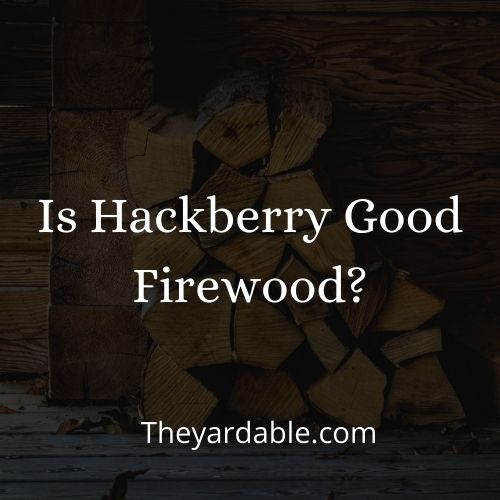 Varieties of Hackberry 
The most common varieties of Hackberry trees are:
Green Cascade (Celtis sinensis): an uncommon weeping variety of hackberry.
Magnificat: is a hybrid of the common hackberry and the sugarberry. It has the best features of each species and is resistant to the common hackberry diseases. 
Praire Pride (Celtis occidentalis): is the variety of hackberry that can withstand adverse weather conditions and diseases. It is the only variety resistant to witch's broom, a disease that causes spotty yet strangely dense growth.
Praire Sentinel (Celtis occidentalis): is the most common of hackberry species. It is a columnar form of hackberry but has become increasingly available and popular. 
Physical Characteristics Of Hackberry
Name: Hackberry or Celtis occidentalis
Heat per cord ( Million BTUs): 21.2
Weight Dry (lbs per cord): 3196 lbs
Weight Green (lbs per cord):  3984 lbs
Seasoning Time: 6- 12 months
Resin / Sap Content: Low
Splitting Difficulty: Relatively easy
Smoke: Low
Smell: Slightly Pleasant
Coal production: High
Creosote buildup: Low
Is Hackberry Easy To Split?
Hackberry is a heavy hardwood, but relatively easy to split if it has grown straight, especially when dried properly.
If you are splitting green hackberry wood by hand, the ax has to go through the whole log. Otherwise, you have to rip the log apart manually since it is very stringy wood.
Overall, it is much easier to split hackberry than elm logs for firewood, which has similar BTUs per cord. On the other hand, it is slightly more difficult to split hackberry than it is to split tamarack or larch logs.
How Much Sap Content Does Hackberry Have?
All trees produce sap or resin to some extent, but hackberry has a comparatively low sap to softwoods like cedar, pine, or fir firewood.
Moisture Levels Of Hackberry
Hackberry, similarly to black cherry, has a very low moisture content compared to other hardwoods, reaching 64% on the high-end freshly cut.
The low moisture content of green wood makes the seasoning time shorter, and the wood a lot lighter.
What Does Hackberry Firewood Smell Like?
Hackberry has a slightly pleasant smell that you might not notice. However, oak and honey locust and cedar varieties smell better than hackberry does.
If you are after a good smell, then hackberry does not do as well as its alternative firewood. One way to achieve a better smell is by mixing it with other wood. You could start the fire with hackberry and continue with oak, for instance.
Heat Output And Efficiency Of Hackberry
Hackberry has a BTU of 21.2 million per cord. Compared to other firewood like black locust, Gambel oak, and beech, its heat output and efficiency are low, but generally, it produces a decent amount of heat.
The BTU is similar to Douglas fir firewood and tamarack, which essentially are softwoods.
Fire Characteristics Of Hackberry
Creosote buildup
Every type of firewood creates creosote to some extent. As a hardwood, hackberry has a very low creosote buildup. Again, this is only if it has been seasoned well.
The term creosote is an important term to know if you are new to the world of firewood, so I insist you read exactly what it is.
Amount of Smoke
Well-seasoned hackberry burns with low smoke. Hackberry is a hardwood with low moisture content – a peculiar quality. Thus, it requires little time to be seasoned, and it burns with very little smoke if seasoned properly. 
Does It Produce Quality Coals And Why It Is Important? 
Yes, hackberry produces quality coals. The best of firewoods are known for producing high-quality coals when burnt.
These coals are important because they are the retainers of heat. Firewood that produces quality coals ensures that heat is retained for a while, even after the wood is burnt up. 
A good bed of coals makes it easier to restart the fire the next day and keep some warm at night.
Is It Okay To Burn Hackberry In A Fireplace?
Yes, it is okay to burn hackberry in a fireplace. It doesn't smoke much, and its creosote buildup is low if seasoned properly. Furthermore, because of low levels of sap, it does not spark nor pops as much as pine.
Any green firewood (freshly cut) will not be suitable for a fireplace. Overall, hackberry has good qualities that make it a great choice for your fireplace or log burner. It will give you the heat you need while giving off a slightly pleasant smell.
How Long To Season Hackberry?  
Naturally, all firewood needs to be seasoned properly before use. Otherwise, it won't burn as hot well and will build more creosote in your flue or chimney.
In the ideal conditions, hackberry's low moisture content demands that it dries for at least six months before burning it as firewood. For best results season your hackberry for one full season.
You should aim for moisture content around 20% or lower before using hackberry as firewood.
Is Hackberry Firewood Expensive? 
As we've seen, hackberry is a good choice for firewood, but its demand is not as sky-high as other firewoods like locust or oak varieties.
Most firewood sellers mix it with other hardwoods like red elm, oak, and walnut.
So I reached out to different firewood sellers out there, and one of them was kind enough to give me a reply. According to Andy, the owner of woodchuckfirewood.com, a half cord of split and seasoned hackberry costs 225USD whereas for a full cord they charge 450USD.
Pros And Cons of Using Hackberry As Firewood
 Pros
It is easy to split.
Seasoning time is between 6-12 months because of its low moisture content. 
It burns well.
Low smoke.
It produces good quality coals.
It has a slightly pleasant smell.
Cons
It is not durable and is prone to fungal attacks.
It blunts cutting tools when dry.
How does hackberry compare to other firewood
 BTU: In terms of BTU, Hackberry is not the best. But it can produce a good amount of heat better than softwoods. In the hardwood category, it is not the best.
Seasoning Time: Hackberry has a very low moisture content, so it takes lesser time to dry. Season it for 6 months, and you get a decent fire; season it for 12 months, and get a great fire.
Splitting Ease: Although hackberry is heavy, it is easy to split if grown in a straight grain, unlike some hardwoods.
Moisture Content: Hackberry, unlike oak, pine and honey locust, has a very low moisture content.
Price: While there is no fixed price for hackberry, it is a fact that it is cheaper than most hardwoods. This is largely because it is not as popular as other hardwoods.
How to Identify Hackberry Tree?
It is a medium-sized elm-like tree that adapts well to a wide range of soils and weather conditions.
It is a light-colored wood with a distinctive bark pattern. Its bark with wart-like protuberances and corky ridges is a distinguishing feature from elm.
It is also called sugarberry, northern hackberry, nettle tree, American hackberry, and beaver wood.
Frequently Asked Questions
Is hackberry good indoor firewood? 
Yes, hackberry is good indoor firewood because it doesn't smoke too much, has a low creosote buildup, and produces moderate heat. 
How much does a cord of hackberry weigh? 
Hackberry weighs 3196 lbs per cord when dry and  3984 lbs per cord freshly cut.
How much is in a Rick of wood?
There are between 550-650 pieces of dry wood to be split per cord. A Rick of wood is technically 275-325 pieces of dry wood.
Conclusion
Hackberry is a user-friendly wood. It has good qualities and is a good choice for indoor and outdoor use. While the BTU of hackberry is significantly lower than other hardwoods, it produces a moderate amount of heat.
The great advantage of using hackberry as firewood is its seasoning time of 6-12 months. It starts a great fire, and it has a slightly pleasant smell.
Hi!
I am the guy behind Theyardable.com. I grew up on a homestead and I am here to share the knowledge I have and things I learn while living in the countryside.