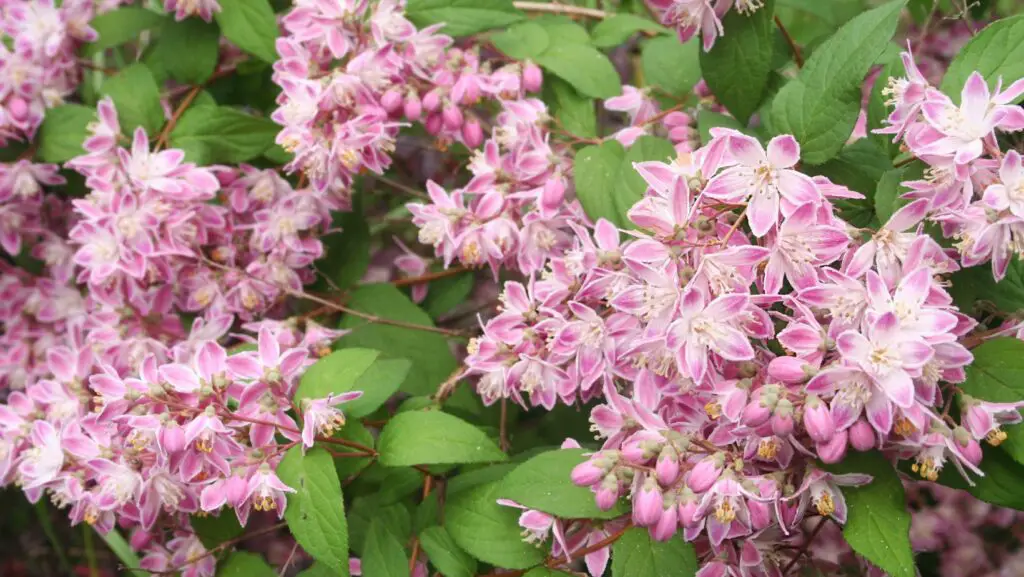 The deutzia offers very easily cascades of flowers in late spring and early summer; its culture is simple and particularly recommended for beginners.
In this article, I have gathered for you all the information about the deutzia plant, its main characteristics, and what you need to know to plant and grow it.
Characteristics of the deutzia
| | |
| --- | --- |
| Scientific name | Deutzia spp. |
| Family | Hydrangeaceae |
| Origin | Far East, Himalayas |
| Foliage | Deciduous |
| Flowering | May-July |
| Rusticity | -15°C (-59°F) |
| Exposure | Sun |
| Soil | Garden soil |
The deutzia is a small shrub of 1,50 m on average, with a slow growth in the first years, with a rounded port, growing in a clump formed by many thin branches which become quickly arched in some years. The weight of its numerous flowers gives it a distinctly weeping habit.
The flowers are small, of white or pink color, grouped in small bunches all along the branches.
How to grow a deutzia shrub
The culture of the deutzia presents few difficulties, but you will have to protect it from strong winds and to avoid planting it in too light, sandy or very dry ground. Give it as much light as possible for a good bloom.
It is important to water well during the year of planting, especially in summer. Leave the shrub unpruned for 3 years, while it fills out. Then, prune every year after flowering, above the new branches by removing a third of the length of the branches.
A few shovelfuls of manure or compost at the foot, brought in winter, will contribute to satisfy its nutritional needs.
It is not known to have any parasites or diseases.
– Avoid pink varieties in the shade: they are the only ones whose blooming really suffers from the lack of light.
How to grow deutzia in a pot
Give the deutzia some comfort by repotting it in a pot of at least 30 cm in diameter. A universal potting soil is sufficient.
After flowering, prune back the old branches, recognizable by their tattered bark, to encourage new growth.
Where to plant a deutzia shrub
For those with limited garden space, deutzia shrubs can be planted in pots and placed on patios, decks, or balconies to provide a splash of color and texture.
For larger gardens, deutzia shrubs can be planted in flowerbeds to create a stunning display of blooms.
In the garden, plant groups of 3 plants to create a volume, in association with lilacs.
Our selection
The colors are not very varied, so the choice will be made essentially on the period of bloom. By choosing the right varieties, you will be able to obtain flowers for almost 3 months.
The May deutzias
Deutzia gracilis is a small, slow-growing shrub, 70 cm tall and wide; the bloom is pure white.
D. rosea is 4 ft. tall in all directions; blooms are soft pink.
D. crenata 'Nikko' forms a compact ball of 50 cm to 1m in all directions, with white blooming; it is recommended for pot culture.
D. elegantissima 'Rosealind' measures between 1,20 and 1,50 m; of medium fast growth, it is very floriferous; the bloom is dark pink.
June deutzias
D. x 'Mont Rose': 1,50 to 3 m high, in the best conditions, by 1,20 m wide; large flowers in pink-mauve clusters and in shades of pink.
D. x Pink Pompon' looks like it but with double flowers.
D. scabra 'Pride of Rochester': 2 to 3 m high and 1.50 to 2 m wide; reddish-brown bark peeling off in shreds; double, white flowers, pinkish on the outside.
July deutzias
These species are less common in the trade but are worth looking for.
D. chuni: narrow green leaves, reminiscent of willows; white flowers with pinkish reverse.
D. pulchra: flowers with small white bells, arranged in spikes.
In a nutshell
The Deutzia shrub is easy to care for and can be grown in a variety of climates. With its low maintenance and stunning appearance, it is sure to make an excellent addition to any garden or landscaping design. Whether you're looking for a focal point for your garden or just a nice decoration for your patio, the Deutzia shrub should not be overlooked as an option.
Hi!
I am the guy behind Theyardable.com. I grew up on a homestead and I am here to share the knowledge I have and things I learn while living in the countryside.